August 17, 2021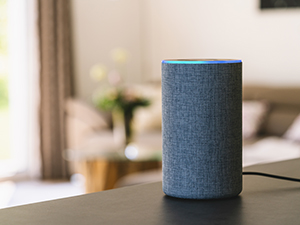 Smart speakers are all the rage. Some people have embraced the new technology, while others have shied away from it, not knowing how these devices can assist them with everyday tasks.
There are a handful of different smart speakers on the market, but Amazon Echo is one of the most popular devices.
Amazon Echo connects a voice-controlled intelligent personal assistant called Alexa. The smart speaker responds to the names "Alexa", "Echo" or "Computer." Some features of the device include voice interaction, setting alarms and providing real-time information.
Set-Up is Easy!
Once you get your Amazon Echo, set-up can seem intimidating, but it is very easy. You will first need to decide where you place your Echo. Try to find a centralized location such as the kitchen counter or end table in your living room. Then, plug it in.
You will need to download the Alexa App on your smartphone or device. Within the app, set up the Wi-Fi connection for your Echo and help Alexa get to know you by setting up your "Wake Word," which will help Alexa recognize your voice. The Alexa App is also used to download Alexa Skills or apps you would like to use with your smart speaker.
How Can Amazon Echo Be Useful To Older Adults?
Smart speakers can be useful for all ages, especially older adults. Let's explore four ways Amazon Echo can assist older adults.
1. Reminders
Amazon Echo is very helpful with reminders such as birthdays, appointments and medication reminders.
You can easily set-up your reminders with Alexa. For example, you can simply say: "Alexa, remind me to take my medicine at 9 a.m. every day," or "Alexa, remind me to go to the dentist today at 3 p.m." Alexa will set your reminder and speak up when it's time to take your medication or head to the dentist.
Say, "Alexa, what are my reminders today?" and you will get a run-down of all of your reminders and appointments for that day.
2. Entertainment
Alexa is not all business all of the time; you can do fun things with your device. Do you enjoy audiobooks? By simply connecting the audiobook app to your Amazon Echo, Alexa can play your audiobook while you cook or exercise.
In addition, you can stream your favorite music by adding music apps such as iHeartRadio or Pandora to your Echo. When you are ready to listen to music, you can say "Alexa, play iHeartRadio."
You can also play fun games with Alexa. Want to exercise your brain? You can play quiz games such as Millionaire Quiz Game (similar to the show Who Wants to be a Millionaire), Song Quiz or even Jeopardy!. Alexa will read you the clue and you can answer out loud what your answer is. There are also fun group games for nights you are entertaining friends or family.
3. Safety
The Amazon Echo can help you stay safe. "Ask My Buddy" is a great safety feature that allows you to contact help if you can't reach your phone or physically can't get help yourself.
This service allows you to indicate who your emergency contacts are. If you need help, all you have to say is "Alexa, ask My Buddy to send help." My Buddy will then send an alert to your contacts via text or voice phone call to let them know that you need immediate assistance.
It's important to note, this is not a substitute for 911. It's a tool that offers assurance to the user that help is not far from reach.
4. Instant Reports
If you are one to closely follow the news, traffic and sports, Alexa can help you stay on top of it. You can set up Flash Briefings to send you the trending news from your favorite sources. To set this feature up:
Go to Settings in your Alexa App on your phone
Scroll to Alexa Preferences and select Flash Briefings
Add your preferred news sources by tapping the + icon
Tap Enable
Now when you are ready for your news update, say "Alexa, what's the news?" and get your news instantly.
Need a weather update?
With your Alexa app, add the Weather Alexa Skill. Add your address so the skill knows where to search. Now, all you have to do is say "Alexa, what is the weather today?" you will get a complete rundown of the weather.
Amazon Echo Offered at The Admiral
Recently, The Admiral at the Lake became one of the first retirement communities in the U.S. to offer the Amazon Echo in all 200 of its independent living apartments for free.
"This deployment will be accompanied by what may be the most extensive research to date exploring how voice-recognition technology can impact the lives of older adults," says Akintunde Littlejohn, The Admiral's Information Technology Director. "The devices will be preloaded with custom communication tools and community information, like menus and listings of events."
After surveying The Admiral residents in January 2018, it was found that 10 percent of the independent living residents already used smart speaker devices. Those residents were using the device to compensate for vision and mobility limitations.
Independent Living at The Admiral
Moving to independent living at The Admiral at the Lake allows you to be free to live your life as you please, with plenty of social, lifelong learning, and health and wellness opportunities. You'll never worry about home maintenance again, and you'll feel a sense of security through Lifecare, because your healthcare needs will be taken care of.
Some people feel they are too young and healthy to move to a retirement community, but there are many benefits to moving sooner rather than later. Don't miss out on the opportunities The Admiral can provide.
Download our free guide, "I'm Too Young for Independent Living," to see more reasons you should join us soon!