August 4, 2022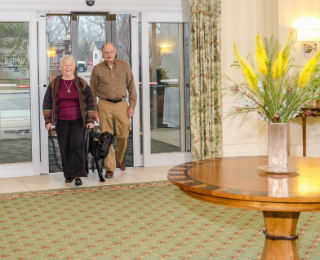 After the kids are grown and we've given up on corporate America, many of us enjoy having the freedom to enjoy our retirement with leisurely travel. And most of the places we'd like to go would be even more enjoyable if we were to take our furry companions along for the ride.
Preparing for Travel with Your Pet
As you plan a great adventure for you and your pet, it may be helpful to double-check each step along the way to be sure that every place and mode of transportation you have planned will welcome the species, breed, and weight of your animal friend.
Finding a Place to Stay
With so many Americans showering affection on their pets, many hotels and resorts are openly inviting guests to bring their pets along. Some of the pet amenities that are offered at select pet-friendly hotels and resorts include:
Accessories: beds, leashes, collars, tags, bowls, placemats, scratch poles, bathrobes, toys, travel bags, pooper scoopers, and litter boxes
Meals: gourmet menus, room service, treats, bones
Services: training, walking, grooming, turn-down service, massage, acupuncture, reiki, and pet-sitting
Activities: mountain hikes, playdates, boot camps, and, swimming
Travel Safely with Your Pet
Be sure that your pet can travel comfortably in a secure pet carrier that is big enough for him to turn all the way around and lie down. Soft carriers work well when your pet is accompanying you in passenger areas, while well-vented hard carriers are better for times that your pet has to travel in cargo areas.
Ask the Vet
Be sure to consult your vet before your travel. Depending on the breed of your pet, there may be environmental circumstances that could impact his well-being. Share the details of your location and modes of travel with your vet and ask her for practical advice. Carry an updated copy of your pet's veterinary records with you in case you have an emergency or need vaccination proof.
Go Exploring
Planning to enjoy the great outdoors? Be sure to ask about local leash laws and relief area restrictions. Many national and state parks, campgrounds, and beaches require pets to be on a leash at all times. And, just in case you and your pet get separated, make sure he is wearing an identification collar with your phone number.
Settling In
While you may arrive at your destination ready to explore, your pet may need more time to get used to his new surroundings. Give him some time to explore, learn where his food and water will be, and choose a place to play or sleep. Maintaining your usual routine with your pet will help him get acclimated. Don't be surprised if his behavior is odd; all the new sounds and smells may put him on edge at first.
Take Your Time
You never know what the weather will bring or how either of you may feel each day. Be conscious of how unfamiliar surroundings may affect your pet. Planning one activity after another may seem like fun while you are planning it, but both you and your pet will probably enjoy yourself more if you take things one day at a time.
Pets at The Admiral at the Lake
Residents find that four-legged friends can be a great source of companionship and a great way to meet other pet lovers. Unlike your average senior retirement community, The Admiral at the Lake caters to the vibrant, active lifestyle enjoyed by residents and their pets in this urban senior living community. Looking for a continuing care community that you and your pet can call home? Call 773.433.1801 or click today to get your free information kit.