March 24, 2022 —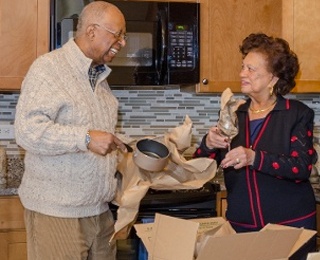 Should I stay or should I go?
—The Clash
That's the question asked by empty-nesters as you plan your future.
Your family home has memories and good neighbors. If you're like many people who are planning for retirement or already retired, it probably also has empty rooms. And, for many parents, it probably also contains debris from your past you haven't examined since you carefully—or hurriedly—stored it away.
What is Downsizing?
People of all ages are jumping on the downsizing bandwagon. They boast about how it makes their lives simpler so they can concentrate on their priorities. They say downsizing saves money and time. Downsizing also reduces clutter.
Should You Downsize?
Here are questions to ask yourself to determine if you should stay or go:
Do you have unused rooms? Are you planning on turning one into a guest bedroom or a sewing room? If your spare bedroom still has posters and decorations from your child's college years or you never use it, you may want to consider finding a smaller home.
Do you have too much stuff? If you're still storing things for your children or holding on to mementos from a long-ago trip to San Francisco, downsizing will force you to get rid of the clutter. One study found that 25% of seniors in the community exhibited hoarding behavior. Another study showed that people over 55 are 50% more likely to engage in hoarding behavior than the general population. Do you have a problem?
Are you getting annoyed at additional costs? Property taxes, home insurance, homeowner association fees, repair costs and assessments add up even if you've paid off your mortgage. Each cent you pay diminishes your hard-earned equity. Frustrating, isn't it?
Do you need more time? Mowing and fertilizing the lawn, trimming the bushes, clearing the sidewalks of snow, and making small house repairs can eat up time. Even if you hire a home maintenance service, they never mow the lawn exactly when it needs to be done or to your specifications. And what happens if they don't show up to shovel the snow when you need to go somewhere?
Do you feel trapped? If you have a home, you can't leave for that vacation around the world or even for a summer visiting the kids without worrying that a squatter has invaded or a thief has it targeted. Should you hire a security company to check on your home? And what can you do if something happens?
Downsizing Options
Moving to a smaller home won't take care of all those issues, although they can help with most of them. There are multiple options when you downsize, and each has its benefits and drawbacks.
They include:
Moving to a smaller home. You'll save on property taxes, but you'll still have to maintain the home and property unless you want to find a condo or residence with a homeowner's association that will mow the lawn and clear the snow for an additional fee.
Renting an apartment. If you find a nice apartment to rent, you'll only have to worry about whether they'll accept your pet and rising rent costs nationwide. Hopefully, you'll have good neighbors who aren't too noisy or intrusive.
Moving to a senior living community. Senior living communities take care of everything—maintenance, snow removal and utilities in most cases. You have your choice of rental communities, co-op communities, continuing care retirement communities and more.
What Do Senior Living Communities Offer?
Many offer fitness centers, travel clubs, limited housekeeping, transportation, dining and more. For example, The Admiral at the Lake offers a fitness center and fitness classes, a heated pool, craft rooms for everything from sewing to woodworking, parking, and gourmet dining.
The Admiral at the Lake is a continuing care retirement community, which means that if you should suddenly become ill, we will take care of you. You won't have to move, and you won't be separated from your spouse. You receive lifetime access to assisted living, memory support care and skilled nursing.
Senior living communities also offer socialization, and that's a real benefit at The Admiral. An added benefit is the residents of The Admiral have been and continue to be Chicago's movers and shakers. Artists, politicians, activists, lawyers, doctors, athletes…they all live at The Admiral.
We don't like the terms retirement community or senior living, because our community encourages a lifestyle that supports an ageless spirit. The Admiral at the Lake fosters engagement, collaboration and liberating choices. Residents make the decisions, designing and directing the recreational, intellectual, social and spiritual life of the community.
Schedule a personal tour today to explore your options.