March 16, 2022 —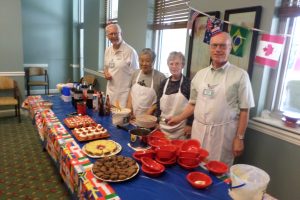 Admiral residents volunteering at Olympics celebrations in The Harbors.
Volunteers donated 7.9 billion hours of volunteer service worth $184 billion in 2014.
How many of those hours did you contribute? Wish you could contribute more? Not sure how to get started? Or even why?
Why Do People Volunteer?
Most people volunteer out of the goodness of their hearts and to give something back to the community. Others develop new skills and increase experience by volunteering.
Energize, Inc. identifies reasons actual volunteers have given as to why they volunteer: sharing a skill, gaining leadership skills, repaying a debt, learning something new, having an impact, making new friends, and personal experience with the problem, illness, or cause.
Why do you want to volunteer?
How to Volunteer
There are millions of volunteer opportunities—from your local church to a homeless shelter, and from the Humane Society to your local library. Below are some questions to ask before deciding on a volunteer opportunity:
Which opportunities match your goals and interest?
Which opportunities match your personality?
Who or what do you want to work with?
Do you work better alone or with a team?
Do you prefer to work behind the scenes or be more visible?
How much time do you have?
How much responsibility do you want?
What skills can you contribute?
What causes are important to you?
Community theaters
Museums
Admiral at the Lake community members volunteer to be reading buddies at nearby Goudy Elementary School
Pet shelters
Service organizations, such as the Lions Club or Optimists
Youth organizations and community sports teams
After-school programs
Places of worship
State and national parks
National organizations such as Red Cross
High school exchange programs
Peace Corps
Environmental organizations
One-on-one volunteering to help people you know. For example, members of the independent living community make new friends by escorting residents of The Harbors, The Admiral at the Lake's nearby rehab, assisted living, and skilled nursing building, to events held in the auditorium.
Chicago has many volunteer opportunities specific to its distinctive ambiance:
Benefits of Volunteering
Most people view volunteering as a charitable act. And it is. However, volunteering also benefits the volunteer in the following ways:
Make new friends and strengthen existing relationships via a shared activity
Increase social and relationship skills
Counteract the effects of stress, anger and anxiety
Combat depression
Enhance happiness
Increase self-confidence
Develop a sense of purpose
Help with physical and mental health
Gain career experience
Learn valuable skills
Network
Life at The Admiral at the Lake gives you the freedom to spend your time the way you want. Click here to learn more today!