December 9, 2022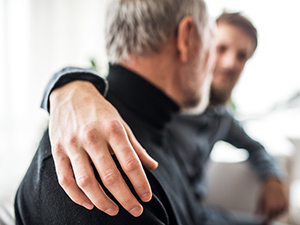 What a relief!
Your loved one may have been reluctant at first, but they are now on board with the idea of moving to an assisted living community. Now that you've narrowed down the top choices in assisted living communities, it's time to start touring!
Before heading out, it's best to have an idea of questions you will ask during your tour. Here are 9 questions to add to your list.
1. Where are the assisted living apartments located?
First and foremost, where are the assisted living apartments located? Are they on the 6th floor of the building? Near the dining room? Close to public meeting areas?
Get a sense of where the apartments are located on campus and the environment they are located in. How accessible are they to independent living, memory care and skilled nursing so your loved one can visit their spouse or friends easily?
2. How many apartment homes are available and are they private?
By asking this question, you will learn how big the assisted community really is. It might also help you determine how long it may take to get an apartment if there is a waitlist.
It's also important to know if they are private apartments or shared rooms. Most residents prefer their own private space. Remember that your loved one is more than likely coming from a home they've lived in for years. They may not be open to sharing a space with someone they do not know.
3. Do you have immediate availability or is there a waitlist?
Depending on what your loved one needs at the time, this is a very important question. If you feel that your loved one needs assistance right away, you will want to find an assisted living community as soon as possible. However, if your loved one is doing fine on their own for the time being, then a waitlist isn't a bad thing. Just be sure to inquire how long of a wait it will be until the preferred apartment opens up.
4. Are there different types and sizes of apartments to choose from?
Some communities only offer one type of apartment and others have a few different sizes to choose from. The sales counselor should be able to provide you with floor plans to determine which type and size are appropriate for your loved one.
When you're touring the community, stop by the type of apartment that is the top choice for your loved one and see it for yourself. Let your loved one move around the apartment and get a feel for the space to help them make a decision on which style they like best.
5. What services are included with the monthly fee?
Stay informed on all services and amenities covered with the monthly fee. Not every community's fees cover the same services. Some communities offer an extensive service bundle while others can offer a pick and choose your services. Be sure to ask if daily housekeeping and meals are covered under the fees as well.
6. What is the staff to resident ratio?
Knowing the staff-to-resident ratio can paint a better picture on the quality of care your loved one will receive. State and local laws differ for the required staff-to-resident so be sure to check those laws before your visit. In short, the better the staff-to-resident ration, the better care for your parent or loved one.
7. Are there health and special care services available on-site?
Is there an on-site doctor or a doctor that has clinic hours on certain days and time? Some communities have a wellness center on-site which makes it convenient for the residents to not have to go far from home to visit the doctor.
8. Is there a written care plan and what role do I and my loved one play in the care plan?
As you are playing a role helping your loved one find the perfect assisted living, you more than likely want to play a part in their care plan. Ask and get all of the details on the "who" and the "how" when it comes to the way your loved one's care plan will be coordinated.
9. What kind of activities and events are available?
Assisted living shouldn't be boring. Take a peek at the activities and events calendar. What kind of activities are offered? Are there any that would pique the interest of your loved one? Are there opportunities for socialization? Even with the best care, boredom and loneliness can have negative effects on your loved one. The more activities and social activities that interest them, the better.
An Important Decision
Helping your loved one decide which assisted living community is right for them is a very important decision. To be sure you ask all of your questions, write down or print out your list before visiting the community or meeting with the director so no questions are missed. After your tour, if you think of an additional question be sure to contact the resident director as soon as you can.
Do not be afraid to ask any and all questions. This is a big decision and making sure you and your loved one understand everything you need to know about the community is very important. Once you make your final decision, you'll feel confident that your loved one is safe and living their best life in their new home.
Schedule a Tour with The Admiral at the Lake
The Harbors at The Admiral at the Lake provide a warm, home-like environment and care partners that can help your loved one with daily tasks. We have 39 spacious and private apartments, some with beautiful views of Lake Michigan. As a resident-driven community, there are many activities and events to choose from to promote an active lifestyle.
Come see and experience our community for yourself! Click below to learn more about what to expect on your personalized tour and fill out a form to get started.
See The Admiral at the Lake for Yourself!