July 20, 2022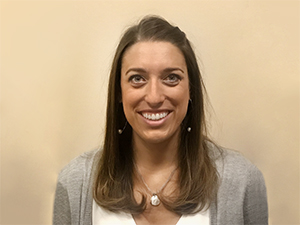 There are some new and exciting changes coming to The Admiral. One of the most exciting things is the revamping of the Wellness Center. There will be more services available in house to residents that will help keep their health and wellness in the best shape.
Accompanying these changes are some new faces. Michelle Roth is enjoying her new role as Wellness Coordinator at The Admiral at the Lake. We recently caught up with her and got to know her and her new role.
Get to Know Our New Wellness Coordinator
Michelle grew up in Milwaukee, Wisconsin. She has lived in the suburbs of Chicago for the past 9 years. Michelle holds a Bachelor of the Arts in Athletic Training and a Minor in Physical Education from Anderson University in Anderson, Indiana. She also attended Concordia University Chicago in River Forest, Illinois where she received a Master of Arts in Exercise Science.
Before coming to The Admiral at the Lake, Michelle was an Exercise Physiologist for two years at a retirement community and a Wellness Lead for four years at another retirement community for four years. Outside of working in retirement communities, she was a Health Navigator in corporate fitness, a Fitness Instructor at park districts in Wisconsin and Illinois and a USA Gymnastics Women's Team coach for sanctioned clubs in Wisconsin and Illinois.
Wellness Coordinator at The Admiral
When learning about the role of Wellness Coordinator at The Admiral, Michelle looked into the community further, was educated on The Admiral's Values and Practices as well as the community's strategic goals and objectives.
"I knew it would be a great fit and opportunity," Michelle stated. "I love the culture that has been set into place by both staff and residents."
What are the duties of the Wellness Coordinator at The Admiral?
"I support whole-person wellness by planning and directing the operations of the Wellness and Fitness Programs for Independent Living, and fitness programs for the Harbors," Michelle explained.
"I am a liaison for the healthcare providers in our Wellness Center including physicians, nurse practitioners, labs and our specialty providers such as podiatrist, audiologist, dentist, psychologist, optometrist, psychiatrist and rehabilitation neuropsychologist. I also coordinate processes for supporting at-risk residents. I am involved in various staff and resident committees."
Michelle's role is still evolving and she is looking forward to taking on new duties that may come her way.
"I have a passion for the health and well-being of older adults and look forward to expanding my knowledge and services to what may come!"
A Day in the Life of a Wellness Coordinator
There is no such thing as a "typical day" in Michelle's role. And, she is very happy with that!
"We have a meeting every morning with all the managers of departments to go over various topics of concern, suggestions, problem-solving, events and ideas," she explains. "It is a great way for all departments to be in communication about what is going on throughout the community in all levels of care."
The rest of her day is spent with appointments with residents, family members and staff. She works with the healthcare providers who are a part of the Wellness Center at The Admiral. She also oversees the daily operations of the Fitness Center and wellness checks.
Enjoying The Admiral
Even though Michelle is a new face at The Admiral, she is already getting to know the residents and the staff very well.
"Every resident has a story, background, and a vast amount of experience that they bring to the community. It's so fascinating to learn about each individual!"
"The staff has been a team: a team of support, encouragement, and being pro-active in the healthcare setting. The staff at The Admiral at the Lake is very talented and knowledgeable and I love being a part of the team and working with them."
A Community and Family
There are many opportunities to grow socially and keep your health and wellness in check at The Admiral at the Lake. Some older adults feel they are too young and still in good health, so they hesitate to make the move now.
What is Michelle's advice to those considering The Admiral at the Lake?
"Be proactive! The sooner, the better. The community becomes a family. There is so much The Admiral offers for all levels of living -take advantage of it!"