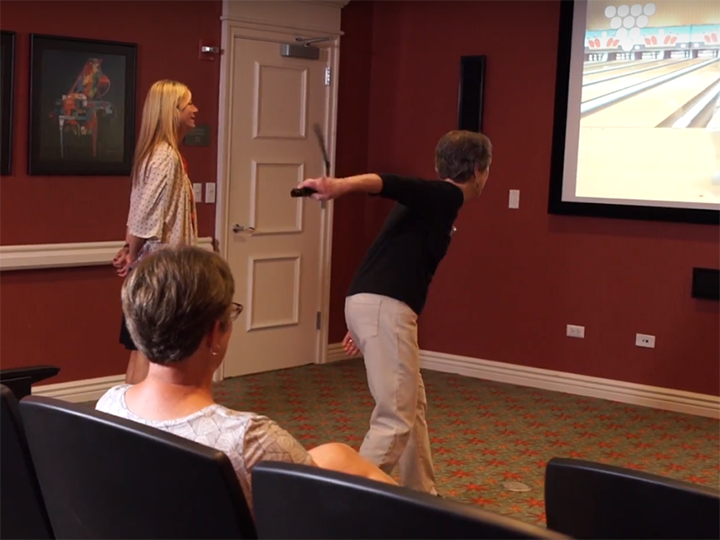 It's an exciting time when your family comes to visit you, especially if they live far away. You want to be sure you are having the best visit possible while they are here with you. That usually means you don't want to spend a whole lot of time finding things to do or spending time traveling to get to activities.
At The Admiral at the Lake, there is plenty to do within the community. We are excited to welcome the families of the residents and invite them to share in your everyday life and explore our community. Even though there are plenty of activities outside of the community, there are many things families can participate in The Admiral community.
Meet the Neighbors
While your family is visiting, take this time to introduce them to some of your neighbors and friends. This allows your family to get to know the residents you spend a lot of time with and get an idea of what your daily life at The Admiral is like. Schedule a time with your friends and neighbors to stop by and say hi to your loved ones. You could even invite your friends to have dinner with you and your family.
The Admiral at the Lake is a close-knit community and residents and staff love to get to know more about you and your family. It is your home and the residents and staff naturally become a part of your family as well.
Dine-In
Even though there are a plethora of dining choices in Chicago, we offer fine dining choice right here in The Admiral community.
If you are wanting to grab a quick lunch family, Cafe Bistro is a great on-the-go or dine-in option. There are chef-prepared daily specials, made-to-order sandwiches, salads and more.
For dinner, be sure to bring your family to our restaurant-style dining area that features exquisite lake views. The Waterfront features chef-prepared meals which include daily specials and choices of seafood and in-season cuisine.
Join In On The Fun
At The Admiral at the Lake, the activities are designed for and planned by the residents, but we invite families to join in as well!
If you are a part of a committee, invite your family to come to a meeting and meet your fellow committee members. Participate in committee planned activities with your family.
Admiral at the Lake features a fun variety of activities for you and your family to participate in:
Go on a committee planned trip to a local museum.
Tend to the rooftop and terrace garden.
Enjoy a dip in The Admiral's indoor swimming pool.
Create a masterpiece together in our Creative Studio.
Does a walk or bike ride along the beach sound appealing? Lake Michigan's beaches and bike paths are just a short walk away from The Admiral. Have a picnic lunch by the lake or, if the weather is right, go for a swim!
Stay-In
Even though it's fun to share family time with your friends, some time alone with your family is always warranted. The Admiral at the Lake is your home. It provides ample space for you to spend time with your family. Whether it's enjoying a movie together, taking part in a fun board game or cooking together in your fully functional kitchen, every minute with your family is comfortably spent in your apartment home.
If your family is from out of town, invite them to stay the night and enjoy another day with you.
Your Home At The Admiral at the Lake
Your apartment at The Admiral at the Lake is your home. We encourage and welcome your families to visit and stay with us. Inviting them to explore our community, meet your fellow residents and participate in activities gives them insight into your daily life at The Admiral and a chance to spend quality time with you.
Interested in living at The Admiral at the Lake? Explore our living options and lifestyle by scheduling a tour. Click here to contact us or feel free to call us at 773.433.1800.