December 9, 2022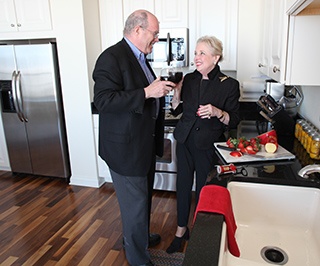 The Admiral at the Lake's not-for-profit affiliate company, Kendal, has values and practices rooted in Quaker principles. Since the 1970s, Kendal has been working to transform our culture's view of the aging process through these values and practices.
Even though the Kendal system is independent and not part of or sponsored by any religious or social institution, it was founded and continues to grow by the principles of the Religious Society of Friends or Quakers. Three of the basic Quaker principles include community, wellness and integrity.
Here's how those principles are lived out on a daily basis at The Admiral at the Lake.
A Sense of Community
One of Kendal's values is to enhance the quality of life and vitality of those we serve and to foster a sense of community. The mission to treat each person as a valued individual is carried out by staff members and residents at The Admiral. The goal is to be inclusive and provide an atmosphere of respect, caring and trust for all. This includes having open lines of communication and respect between staff and residents.
A thriving community requires cooperation and opportunities to become involved, either within the residential community, the neighborhood, the city or beyond. The residents at The Admiral demonstrate their commitment to their community in many ways, including by being involved in numerous resident-led groups that provide education, entertainment, fitness, and more.
Through these opportunities, the resident can explore new avenues of learning and form new friendships, which can prevent isolation and depression while maintaining brain function and health.
______________________________________________________
Learn about lifelong learning in our blog, Quaker Values: Lifelong Learning in Chicago.
______________________________________________________
Providing for Wellness
Wellness is encouraged for residents, as well as for staff, their families and board members. The goal is for each individual to live as full and fulfilling a life as possible. To achieve that goal, The Admiral at the Lake provides a comprehensive wellness program and fitness center.
A full-time fitness director at The Admiral is available to assist residents with nutrition, fitness and any other wellness support that is needed. Combined with a sense of community, the staff actively seeks to help residents with their fitness and wellness goals to help them live a fulfilling life. Wellness planning is done in collaboration with the resident and supports the resident's independence.
Maintaining Integrity
Integrity is a common quality among the residents. At The Admiral, staff and residents live in harmony with the truth which requires honesty and personal wholeness. Research has shown that honest people are well-liked and receive more social support.
Staff at The Admiral are required to complete their tasks and pay special attention to how they accomplish their tasks every day. Their behavior and the respect and dignity shown between the staff member and resident are also very important at The Admiral.
Living a Vibrant Life at The Admiral at the Lake
With wellness, community and integrity in mind, The Admiral sustains a vibrant and active lifestyle. As a continuing care retirement community, The Admiral at the Lake provides independent living, assisted living, memory support and skilled nursing. Learn more about The Admiral at the Lake's lifestyle and living options online, or contact us by calling 773-433-1800.