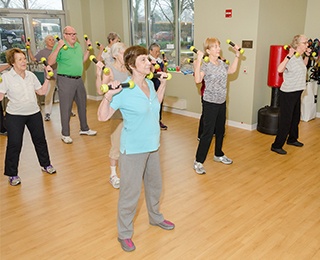 Lifecare communities (also known as continuing care retirement communities or CCRCs) are a favorite choice among older adults as they have every level of care available for residents, all on the same campus.
Most people are surprised to find how many extra services most Lifecare communities provide and the health benefits that come along with them. Depending on the community, these services can include fitness centers and programs, healthy (and delicious) dining and opportunities for social interactions and learning.
Some residents have even gone on to say that by living in a Lifecare community, they are healthier than they ever were before. Here's why!
______________________________________________________________________
Health and Wellness Programs
There is no shortage of health and wellness programs available to you in Lifecare communities. Most communities have an on-site fitness center for you to use anytime you like. Fitness facilities often include a pool, exercise equipment and exercise classes. Some Lifecare communities will offer at least one fitness professional that is on staff to help facilitate fitness classes.
Another way Lifecare communities promote fitness is by facilitating outdoor activity. For example, some communities are near nature trails and walking and biking paths to make it easy for residents to pursue outdoor exercise.
Healthy Eating
If you are someone who prefers having someone else prepare tasty and healthy meals, then Lifecare communities have you covered! If you are envisioning dull, cafeteria-style dining serving bland "hospital" food, guess again. More and more Lifecare communities are focusing on food quality and nutrition, with the food being prepared by culinary school-trained chefs.
The dining rooms at Lifecare communities have adopted more fine dining and bistro-like atmospheres rather than looking like a cafeteria. Most even have a wait staff that will take your order just like any other restaurant would. It's also a great place to meet and catch up with friends and family.
Mental Health Benefits
Mental health is just as crucial as physical health for older adults, and Lifecare communities help with keeping your brain healthy in many ways. One way through which that is accomplished is a resident-driven lifestyle.
A resident-driven lifestyle is something that's prevalent among many Lifecare communities. Instead of having a staff member come up with fun activities to do, the residents take charge of planning and executing events. Being a part of a group or committee is a great way to meet fellow residents, make new friends and enjoy social interactions which are essential for mental health.
Some examples of activities at a Lifecare community are bridge clubs, volunteer opportunities and theater, to name a few. Activities like these are mentally stimulating and offer healthy ways to keep your mind sharp.
Many Lifecare communities have also adopted lifelong learning, and some even have close relationships with nearby colleges and universities. Residents can attend lectures and classes, learning something new or continuing to learn about something they enjoy at little or no cost.
Importance of Wellness at The Admiral
At The Admiral, your health and wellness are at the forefront of your care. We provide an excellent fitness center, which includes an indoor pool that can be enjoyed during all seasons, a full-time fitness director and a comprehensive wellness program.
You have a variety of on-site dining options, including a restaurant-style dining room with views of the lake and a Cafe Bistro with chef-prepared daily specials and convenient to-go options. Our resident driven lifestyle promotes fun and mentally stimulating activities, including lifelong learning opportunities, trips in and around Chicago and creative arts.
If you would like to learn more about The Admiral at the Lake and how living here can be beneficial to your health and wellness, you can schedule a tour or call us at 773-433-1800.