December 9, 2022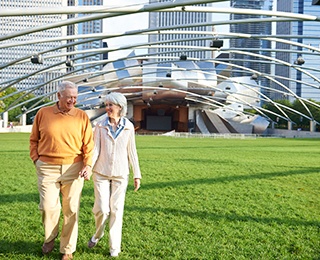 According to recent studies, 10 million adult children over the age of 50 are actively caregiving for their parent(s). These adult children are tasked with daily chores such as grocery shopping, meal preparation, dressing and bathing, and more.
Even though many older adults would rather stay at home instead of downsizing to a life plan community, in most cases that may not be the best idea. It sometimes leads to a high cost to the family caregiver—mentally, physically and financially.
Many of these family caregivers want to be sure their parents are safe and happy, the same as their parents wanted for them as they were growing up. This can still be a reality if they move from their home.
Here are three reasons to start the conversation about making the move to a Lifecare community.
1. Parents Are in Good Health, Start the Move Now
If your parents are still in good health, now would be the best time to start downsizing and moving. It will be much easier for them to help sort through their belongings and make the move.
The other benefit of starting early is that they can take their time deciding on which life plan community (also known as continuing care retirement communities or Lifecare communities) they would like to move to. Once they're moved in, they'll have plenty of time to enjoy independent living.
Residents in life plan or Lifecare communities start off living in independent living and also have immediate access to higher levels of care such as assisted living, skilled nursing and rehab, and memory care if they should ever need it. If they wait until their health starts declining or when they need higher levels of care right away, it can be stressful for them and their adult children to find that care immediately.
2. At-Home Caregiving Can Be A Emotional, Physical and Financial Strain
Some older adults would like to stay home during their retirement years for many reasons. Most believe that it will be less expensive in the long run to stay in their current home.
However, if you study the outcomes of aging at home versus living in a life plan community, this isn't necessarily always the case. At-home caregiving for parents can strain their adult children's emotional, physical and financial health.
Emotional health. Many adult children feel that they could never have a negative emotion toward their parents. If they do while providing care for their parent, they usually tuck their emotions away because of guilt or embarrassment. For those who are working full-time and/or raising a family of their own, the guilt and embarrassment can also spread to those areas of their life if they can not meet the demands in each sphere. Crankiness and depression could also arise as you try to squeeze all of your tasks into one day, sacrificing sleep and personal time along the way. You may also spend less time with family and friends, which impacts social health and can lead to depression.
Physical health. 11% of caregivers have stated that caregiving has caused their physical health to worsen. Some adult caregivers have reported suffering from increased rates of physical ailments such as acid reflux, headaches, and aches and pains. Caregivers can also have lower levels of self-care because they are so involved with the care of their parent. They lack the time and energy to prepare proper meals for themselves or to exercise regularly.
Financial health. Even though it may seem the older adult is saving money by staying home, this can cause financial strain to the adult child caregiver in the long run. Depending on the level of care the parent needs, the caregiver may need to take time off from work or quit working altogether if the time is needed to care for their parent. In 2015, the average amount of lost wages and benefits for female caregivers was approximately $324,000 and $284,000 for male caregivers. If the caregiver develops health issues, that can be costly to them too as it will bring medical bills.
3. Life Plan Communities Offer Vibrance and Security
Even if older adults feel they would be more comfortable staying in the comfort of the home they have lived in for years, they should give life plan communities a chance.
Life plan communities are becoming more popular amongst boomers because the passive care that so many boomers associate with "nursing homes" of old simply doesn't fit their lifestyle. By contrast, life plan communities offer a more active and social environment. Boomers are simply moving earlier so they enjoy the active lifestyle and enjoy their retirement years sooner.
As mentioned before, life plan communities offer immediate access to higher levels of care to their independent living residents if they should ever need it. Having this in place gives the adult child and the parent a sense of security knowing that unknown events of the future will be taken care of if it is needed.
Enjoy Retirement at The Admiral at the Lake
Residents can enjoy an independent and active lifestyle as The Admiral at the Lake provides a variety of activities to choose from while at the same time providing a sense of community.
The Admiral at the Lake was recently featured in an article in Decisions magazine. The article, How to Quarterback Care for an Older Parent, further explores the topic of caregiving for parents. The article recounts the story of an artist, Barbara, who took on caregiving responsibilities for her ailing father. After her father passed away, Barbara's mother moved into a residential apartment at The Admiral before eventually transitioning to The Harbors, Admiral's assisted living residence.
You can learn more about The Admiral at the Lake and Barbara's journey by reading the article. You can also learn more about Lifecare by reading our guide, What is Lifecare?