August 4, 2022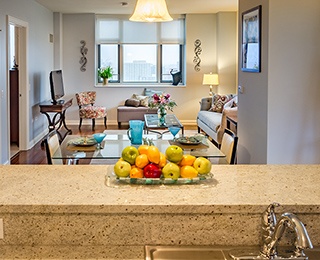 Spring is almost upon us—the weather will warm up, the sun will shine and we'll be able to venture out of our apartment homes without seven layers of winter gear.
The changing season is a great time to take a step back, evaluate and refresh the look of your apartment home. For those of you who are looking for fresh decorating ideas, here are five fun and easy ways to spruce up your apartment.
_________________________________
Related: Tips for Rightsizing your Space
_________________________________
5 Simple Apartment Decorating Ideas and Tips
1. Try Lighter Colors
No matter what size your apartment is, any room can be opened up by using lighter colors. They make the space seem open, airy and welcoming.
If you're looking for color scheme ideas, try this Forbes article on 4 Colors Schemes That Make A Room Look Larger. As they point out, using a lighter color doesn't mean you can't still have bold accent colors if that's where your heart lies.
2. Simplify and Declutter
Spring is upon us, so while you're decorating, why not try some spring cleaning and declutter a bit? It can make a big difference in the overall look of your apartment. Give your home a nice, clean look by cutting down on piles of mail on your desk, discarded books on your end tables and kitchen utensils on the counter.
What's more, clutter can be stressful. According to AARP, "excessive clutter undermine[s] that well-being" that your residence otherwise would offer. Get rid of the things you don't use anymore and when it comes to decorating, take a leaf out of Coco Chanel's book, who famously said, "before you leave the house, look in the mirror and take one thing off." Before you add too many throw pillows, paintings or statement pieces, consider taking one piece away before you complete your room's new look.
____________________________________________________________
Spring cleaning? Check out our blog, 10 Natural Spring Cleaning Products
____________________________________________________________
3. Mix and Match
A fun way to add some spice to your decor is to mix and match patterns or textures. To do this, you could have throw pillows made from different fabric prints or materials, or try a rug with a geometric pattern against solid curtains.
If you want to mix patterns but aren't sure where to start, The Spruce has a handy guide to popular patterns that goes over how to use the different types and what they pair well with.
4. Multifunctional Furniture
Get the most out of your space with furniture that serves more than one purpose. There are a lot of different types of multifunctional furniture out there, so it's only a matter of deciding what your priorities are.
Do you enjoy having company? You might want to consider the tried and true drop-leaf tables that can expand to accommodate a crowd. Are you an avid reader whose collection is spilling out of the bookcase? Nowadays you can find chairs, coffee tables and more that have built-in shelving to help store your library. Do you like to write, draw or paint? You could use a desk with a pull-out top to make more room for your projects. The list goes on and on.
5. Go Green
Adding plants to your decor is a great way to freshen up both the look and the feel of your apartment home. Adding greenery to your living space will also add an interesting pop of color to the decor.
Plants don't just look good in our homes—they come with a lot of health benefits. According to this NBC news article on the various benefits of indoor plants, plants can remove up to 87 percent of air toxins in 24 hours, they can help us feel more relaxed and calm, they regulate humidity and they might even boost your concentration and productivity.
Succulents are especially popular right now as they're very easy to care for—most varieties need a lot of sunlight, but they don't usually require as much watering as other houseplants. If you're worried that your green thumb isn't quite up-to-snuff, you could always start with some succulents and grow from there.
Fun Fact: Did you know that Pantone named "Greenery" their color of the year in 2017? In their words, in addition to being "a life-affirming shade, Greenery is also emblematic of the pursuit of personal passions and vitality."
When you've finished giving your apartment a fresh new look, why not take advantage of the warming weather and explore Chicago? Find out the best dining spots, entertainment that's worth the money, fun things to do and more in our Chicago Guide for Older Adults.