August 4, 2022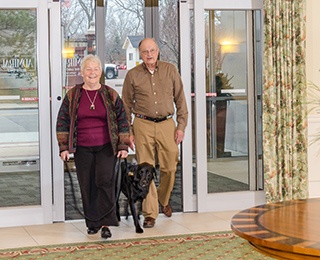 Baby boomers are retiring at a higher rate every year. It is estimated that since 2011, an average of 10,000 baby boomers turn 65 each day. By 2030, about 18% of the population will be over 65.
The hallmarks of the boomer generation have always been a trailblazing attitude and the tendency to do things differently for the better. So, it's no surprise that most baby boomers are choosing life plan communities as their place to call home during their retirement years.
What is a Life Plan Community?
A life plan community (also known as a continuing care retirement community) offers more than one level of care on one campus. Once a resident enters into independent living in a life plan community, they will have access to assisted living, skilled nursing, and rehab if and when they need it.
Life plan communities are known for their active lifestyle and promoting opportunities for older adults to get involved with not only with the life plan communities, but the surrounding community as well.
Why a Life Plan Community?
So what is attracting boomers to life plan communities? Well, the passive care so many boomers associate with "nursing homes" of old simply doesn't fit their lifestyle. In response to that, retirement communities stepped up their game with communities called life plan communities (which used to be known as continuing care retirement communities). They knew retirement communities needed to offer a more active and vibrant lifestyle to residents. Thus, life plan (or Lifecare) communities were born.
Life plan communities make it a lot easier to plan your retirement years and encourage you to continue your active and social lifestyle. To aid in providing an active and social atmosphere, a life plan community could have things such as:
Library

Gourmet chefs

Volunteer opportunities

Fitness center

Activity rooms
Life plan communities also encourage you to enter into independent living sooner so you can enjoy the security, convenience, and freedom earlier. If your health would start to decline, you would have earlier access to higher level care immediately and would not have the added stress of moving if that should happen.
Lifecare at The Admiral at the Lake
Enjoy Chicago living and the lifelong security that Lifecare at The Admiral at the Lake provides. With a one-time entrance fee when you enter independent living at The Admiral, you are granted priority access to assisted living, skilled nursing and rehab, and memory care if you should ever need it and at no additional cost.
You can enjoy the independent and active lifestyle that you are used to, because The Admiral provides a lot of activities to choose from while at the same time providing a sense of community. To help foster that sense of community, there are lifelong learning activities as well as resident-led volunteer opportunities.
If you believe you are "too young" to move into a retirement community, you should consider touring a life plan community. Come see how we live at The Admiral at the Lake and learn more about our lifestyle and services and amenities that we provide. Schedule a tour or contact us today online or at 773.433.1801.