December 9, 2022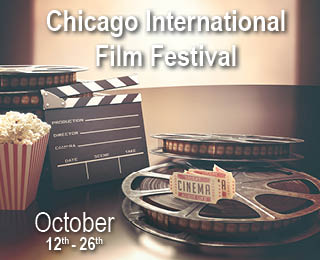 "Film as dream, film as music. No art passes our conscience in the way film does, and goes directly to our feelings, deep down into the dark rooms of our souls."
― Ingmar Bergman
The Chicago International Film Festival, October 12-26, strives to be everything to all people…well, people who love film. The festival offers programs that showcase formats and genres as diverse as documentary, short films, "After Dark" (horror, dark comedies, thrillers), LGBTQ themes, and black culture, as well as filmmakers who are female, black, or LGBTQ or from the Americas, Illinois, and, of course, the world. Frequently, the festival is the film's U.S. premiere, and it is introduced by the cast, director or producer.
Festival Lifetime Achievement Award-winners include Steven Spielberg, Helen Hunt, Dustin Hoffman, Martin Landau, Shirley MacLaine, Lord Richard Attenborough, François Truffaut, Jodie Foster, Sigourney Weaver, Robin Williams, Manoel de Oliveira, and Clint Eastwood. Career Achievement Award-winners include Bruce Dern, Terrence Howard, Susan Sarandon, Shirley MacLaine, Robert Zemeckis, Irma P. Hall, Robert Townsend, Harry J. Lennix, Annette Bening, Robin Williams, and Nicolas Cage.
More than Screenings at the Film Festival
Although film is the topic, numerous related activities are available during the event and after screenings, such as panels, educational events, and question-and-answer sessions. You can attend the pre-film reception and film presentation on opening night. Tributes to industry greats occur at the AMC River East, 322 E. Illinois St., on various dates during the festival.
Vanessa Redgrave will be honored at 6 p.m. October 16.
Patrick Stewart will be honored at 6:30 p.m. October 25.
The awards ceremony takes place October 20 at AMC River East, where all the screenings are held. Winners of the International Competition, New Directors Competition, Documentary Competition, Short Film Competitions, Q Hugo Film Award, Chicago Award, Roger Ebert Award, and other prizes will be announced.
End the festival with a final film and a party during the closing night party, which also includes cocktails and hors d'oeuvres.
10 Tips to Enjoy the Chicago International Film Festival
As any film-lover will tell you, there's an art and science to viewing films amidst the abundance of a festival. Here are 10 tips from aficionados:
Join the mailing list for updates on events and a free program mailed to you for next year's festival.
Bring your autograph book or something to autograph, because frequently famous or soon-to-be-famous producers, filmmakers and actors are likely to be at a screening.
Plan to hang around the AMC River East, where films are screened all day. Even though the theater offers food and drinks, boredom may drive you to sample the fare nearby. Amuse yourself during the time between screenings in the bowling alley and pool hall in the multiplex.
Consider the Moviegoer Pass for 10 admissions or the Passport Pass for 20 admissions if you plan to take in multiple viewings. You'll save money, especially if your entire family plans to go, because passes may be shared across individuals.
Take public transportation. It's only a 10-minute walk from the stop at Columbus and Illinois. Otherwise, you can pay for parking at the River East Center Self Park on the lower level. From The Admiral at the Lake, it's about a 30-minute bus ride.
Arrive early. During the festival, many people are showing up for viewings in different theaters at the same time, so it's best to get there about a half hour early. And your ticket only guarantees you entry if you arrive 15 minutes before the showing. If you're late, your seat may have been filled by someone in the rush line.
Purchase your tickets in advance for popular films. They sell out quickly. You can purchase them online, via Ticketmaster or at the cinema.
Take advantage of the senior discount, which brings tickets down to the member price for general screenings.
Consider volunteering to gain behind-the-scenes access.
Observe cinema etiquette. You may receive whispered censure if you talk too loudly or use your cell phone during the performance of a regular movie, but here, perpetrators may—and deserve to—be booted out.
Explore Your Creativity at The Admiral at the Lake
Admiral residents admire creativity and enjoy opportunities to explore their own creative talents in group activities created for and by the residents themselves, many of whom are artists. Our halls are lined with artworks created by residents.
Along with supporting creativity, The Admiral at the Lake is a Lifecare community that fosters the personal independence, health, and wellness of members. Residents of The Admiral at the Lake actively work to make the world a better place. For more information about residency, call 773.433.1801 or click here.