May 30, 2023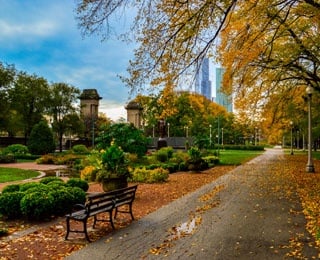 "Chicago is an October sort of city even in spring."
― Nelson Algren, Chicago: City on the Make
Chicago natives know October offers activities galore indoors and out. Join residents of The Admiral at the Lake as we participate in events near the neighborhoods of Andersonville, Edgewater, and in the north end of Chicago.
___________________________________________
Think you're too young to live in a retirement community? Not this one!
---
Outdoor Fun
Edgewater 5K Run/1K Walk
Sunday, October 1, 8 a.m.
Kenmore and Rosemont
Celebrate the community and raise money for all schools in the 48th Ward.
Andersonville First Fridays
Friday, October 6, 6-9 p.m.
Andersonville Businesses
Stop in at Andersonville Brewing for live music or chat with artists at the Andersonville Galleria or munch on free cookies at Jerry's (while they last) or get great deals at the many shops in one of Chicago's safest neighborhoods.
Thursday, October 12, 6:30-10 p.m.
Lincoln Park Zoo, 2001 N. Clark St.
Head to Adults Night Out at Lincoln Park Zoo to experience unique animal chats and live entertainment.
October 13-15, Fri. 7 p.m., Sat. & Sun 2 p.m. & 5 p.m.
Welles Park, 2333 W. Sunnyside Ave.
As part of the Chicago Parks District's "Night Out in the Parks", Welles Park hosts a real-live circus, with acrobats, trapeze artists, and clowns. And the only animal act features the bully breeds, those that disproportionately fill local animal shelters. Every performance benefits the city's parks, and Midnight Circus has raised well over $800,000 so far.
October 13-15, Fri. 6-10 p.m., Sat.-Sun. 11 a.m.-6 p.m.
Andersonville
Start off Friday at the Arts Weekend Hub, a pop-up gallery hosted by the Andersonville Chamber of Commerce at 5438 N. Clark Street, followed by the Night of 100 pARTies!, which features receptions up and down Clark Street. More than 30 Andersonville businesses host over 90 artists and musicians, a block party with outdoor stage and music hosted by First Free, as well as special receptions throughout the weekend!
Saturday-Sunday, October 14-15
Various Locations, North Side Chicago
Explore 200 cool places, from iconic downtown skyscrapers to hidden gems in the city's diverse neighborhoods and suburbs.
Sunday, October 15, 2-11 p.m.
Chase Park, 4701 N. Ashland Ave.
With a real campfire, games, marshmallow roasting, professional ghost stories, live music, treats, and food vendors, this Chase Park event is sure to attract all ages.
Saturday, October 21
Gathering, 2-5 p.m., Millennium Park
Parade, 6-8 p.m. Columbus Drive from Balbo to Monroe
Gather at Millennium Park for dance, yoga, crafts, music, costumes and more on multiple stages. The parade celebrates Chicago's Creative Spirits and draws together world-renowned institutions as well as artists in assorted fields. This family-friendly spectacle will begin as dusk arrives and will include live music, unique floats, fanciful puppets and more.
Sunday, October 29
Grant Park, 337 E. Randolph St.
The Hot Chocolate 15K/5K and 2-mile walk features sweet stations with marshmallows, chocolate chips, and M&Ms along the way.
Clark Street Spooktacular
Sunday, October 29, 2017
Bring the grandchildren for family-friendly games, trick-or-treating, street magicians, jugglers, balloon artists, and a costume contest.
Tuesday, October 31, 7:30 p.m.
Halsted Street from Belmont to Addison
Register and wear a Halloween costume to join or watch from the sidewalk on Halsted Street from Belmont to Addison.
Celebrations of Food and Drink
Wine under Glass
Friday, October 6, 6-9 p.m.
Garfield Park Conservatory, 300 N. Central Park Ave.
Enjoy artisan wine paired with local, sustainably grown food, and explore the Garfield Park Conservatory.
Sunday, October 15, 11 a.m. to 3 p.m.
Concord FiftyFive, 1355 W. Concord Place
Taste cheesy foods like pizza, grilled cheese, poutine, and macaroni & cheese from restaurants and cheese vendors.
Sunday, October 29, 2-5 p.m.
Andersonville
A ticket gets you sweet treats at local restaurants on your choice of two routes featuring more than 20 restaurants. For the third year in a row, one dollar from each ticket sold will benefit Care for Real, Edgewater's Community Food Pantry.
Film!
October 12-26, 2017
AMC River East 21, 322 E. Illinois St.
This film festival attracts aficionados from all over the world for 100 short and full-length films from 50 countries, free panel discussions, and an opening night gala.
October 25-November 5
Music Box Theatre, 3733 N. Southport Ave.
ArcLight Cinemas, Glenview
Take in new films about Israeli culture.
Saturday, October 28, 11 a.m.-3 p.m.
Chicago History Museum, 1601 N. Clark St.
Delve into Chicago's past home life with adorable pets, questionable fashions, long-departed loved ones, and neighborhoods in transition, plus bring your own home film.
Just for the Fun of It
Sunday, October 15, 10 a.m.-5 p.m.
5051 N. Broadway
Chicago's only all-vintage monthly market offers mid-century modern, vintage clothing, vinyl, vintage home decor, furniture, industrial and so much more.
October 28 – Nov. 12, 2017
Chicago locations
This series of talks and events explores the human condition and features exciting thinkers, artists, and performers.
Wednesdays through Oct. 18, 3-8 p.m.
Berwyn Avenue between Clark and Ashland
Come join your neighbors at the Andersonville Farmers Market. Choose from home-grown specialties and fresh-baked goods made from sustainable and locally-sourced ingredients here in Chicago.
Saturdays through Oct. 14, 8 a.m.-1 p.m.
Broadway Armory Parking lot, 5917 N. Broadway, at the corner of Thorndale and Broadway
Enjoy live music as you select fresh locally-grown produce, handmade products, and freshly-baked goods.
Wednesdays & Saturdays, 7 a.m.-1 p.m.
South end of Lincoln Park between Clark and Stockton Drive
Add recipe demonstrations and educational programs to the wares sold by vendors. It's the only Chicago farmers' market to offer free resources and educational opportunities about local sustainable issues, such as compost, waste reduction, and gardening programs for children.
Enjoy the Night Life
4802 N Broadway St.
Looking for a great place to listen to live music in your own neighborhood? Come enjoy live jazz—from New Orleans root rhythms to New York avant-garde at the Green Mill Cocktail Lounge.
1115 W Berwyn Ave.
Through Nov. 19—Bobbie Clearly
5153 N. Ashland Ave.
Fridays-Sundays—The Infinite Wrench
6057 N. Clark St.
Through Nov. 12—Choir Boy
1044 W. Bryn Mawr Ave.
Through Oct. 8—Our Town
1020 W. Bryn Mawr Ave.
Through Oct. 15—Deirdre of the Sorrows
Oct. 27-Dec. 10—J.B.
170 N. Dearborn St.
Through Oct. 15—A View from the Bridge
North Side Living at The Admiral at the Lake
Right here in our own neighborhood, we have a wide selection of activities and attractions. And we're only a 9-minute walk from the Red Line at Argyle, so Chicago's excellent transit system can take us almost anywhere. With access to the entire city and so much in local neighborhoods of Andersonville and Edgewater, residents of The Admiral at the Lake embrace the vibrant diversity of Chicago's north side.
Our continuing care community promotes personal independence, health and wellness for our residents. If you are looking for a senior living community for yourself or a loved one, call The Admiral at the Lake at 773.433.1801 or click today to get your free information kit.