August 4, 2022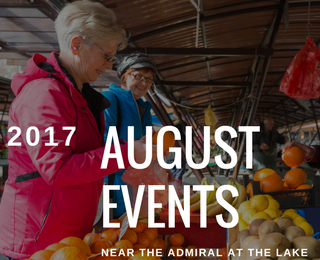 As most of the theaters take a break, we enjoy the last of the summer sun. Join residents of The Admiral at the Lake in events happening in the neighborhoods of Andersonville, Edgewater, and in the north end of Chicago.
Festivals
Chicagoans enjoy a good celebration, and this month, there is a wide variety to choose from. These selections are just some of the ones that are offered within 10 miles of The Admiral at the Lake.
August 5-6, Sat. 12 p.m.-10 p.m. and Sun. 12 p.m.-9 p.m.
Broadway from Thorndale to Ardmore
For the 5th year in a row, Chicago's Edgewater neighborhood will celebrate food and fun on the North Side. Join local musicians and vendors in celebrating Edgewater outdoor setting.
Jeff Fest Arts and Music Festival
August 4-6, Fri. 6-10 p.m., Sat. 2 p.m.-10 p.m. and Sun. 2 p.m.-8 p.m.
Jefferson Memorial Park
Every genre is represented at Chicago's most-anticipated summer music festival. Check out the jam-packed schedule with the best music and art around.
August 12-13, 11 a.m.-10 p.m.
N. Halsted Street, between Belmont and Addison
Don't miss the the largest outdoor street festival, Northalsted Market Days. Now in the 36th year, visitors will enjoy an array of top musical talent, art and craft vendors and a variety of food and drink.
August 25-27, Fri. 4-11 p.m., Sat. & Sun. 12 noon-11 p.m.
400 S. Halsted St. at Van Buren
From Chicago's Greek epicenter comes the 28th annual Hellenic Pride festival. Come enjoy a tantalizing selection of food and spirits served by acclaimed Greek restaurants at this great Mediterranean culture festival for all ages.
Wednesdays, 3-8 p.m.
Berwyn Avenue between Clark and Ashland
Come join your neighbors at the Andersonville Farmers Market. Choose from home-grown specialties and fresh-baked goods made from sustainable and locally-sourced ingredients here in Chicago.
Saturdays, 8 a.m.-1 p.m.
Broadway Armory Parking lot, 5917 N. Broadway, at the corner of Thorndale and Broadway
Enjoy live music as you select fresh locally-grown produce, handmade products, and freshly-baked goods.
Thursdays, 5-9 p.m.
Argyle between Sheridan Road and Kenmore
It's hard to beat the diverse, multicultural environment at the Argyle Night Market. Come pick out your favorite homemade treasures and locally-grown produce and feel the music in your soul.
Enjoy the Night Life
4802 N. Broadway St.
Looking for a great place to listen to live music in your own neighborhood? Come enjoy live jazz—from New Orleans root rhythms to New York avant-garde at the Green Mill Cocktail Lounge.
1115 W Berwyn Ave.
Through August 19—Lela & Co.
5153 N. Ashland Ave.
Fridays-Sundays—The Infinite Wrench
Summer Fun at The Admiral at the Lake
Right here in our own neighborhood, we have a wide selection of activities. From delicacies on the North Side to the last of the theater shows for the season to outstanding live music, residents of The Admiral at the Lake embrace the vibrant diversity of Edgewater and Andersonville on Chicago's north side.
Our continuing care community promotes personal independence, health and wellness for our residents. Are you looking for a senior living community for yourself or a loved one? It may be time to consider The Admiral at the Lake. Call 773.433.1801 or click today to get your free information kit.