December 9, 2022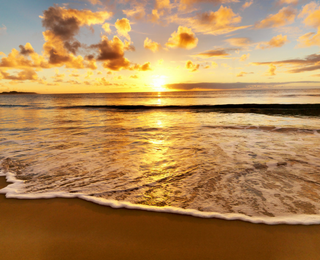 Looking for a spectacular beach getaway? These beachfront destinations are away from the major crowds, but they do offer outstanding accommodations, activities, and culinary delights. Here are a few of the beachfronts the residents of The Admiral at the Lake like to visit:
The mile-long oceanfront boardwalk is but one of the attractions at this Atlantic beach resort town. With a carnival-like atmosphere all summer, and numerous festivals throughout the year, kids of all ages have fun riding along the bike trails, clamming, or enjoying a game of miniature golf. The Rehoboth Beach Museum also offers a bit of nostalgia when you would like to escape from the summer heat.
Proud of its 35 miles of beachfront, Virginia Beach has plenty to offer for retirees. In addition to the Back Bay National Wildlife Refuge, visitors enjoy hiking, biking, boating, and swimming. Need to get out of the sun? The area has numerous restaurants, shopping, and indoor entertainment options as well.
Looking for an outdoor adventure? Head to the Outer Banks. Each island in the 130-mile stretch off the coast of North Carolina has its own character and unlimited opportunities to explore nature: walking along the beach, swimming, surfing, boating, and fishing to name a few. From rustic to premium comfort, there are many options to choose from.
On the Pacific Coast sits a quaint, picturesque seaside town. Cannon Beach offers outstanding natural settings and the luxury of a public beach. Take in exceptional views of the rocks and reefs at the Oregon Islands National Wildlife Refuge, home to a stunning variety of sea birds, birds of prey, and marine mammals. The annual sand castle contest that takes place mid-June each year is quite a popular event.
Boasting 29 miles of public beach, Santa Cruz is a great place to kick back and relax. You'll find no sign of the Hollywood or LA glam, just a sleepy, bohemian vibe. Explore the vintage amusement park at the Santa Cruz Beach Boardwalk and enjoy kelp forests, canyons, beaches, and tide pools inhabited by a wide range of marine wildlife at the Monterey Bay Marine Sanctuary.
And, let's not forget that Foster Beach, where Foster Avenue meets Lake Michigan, is a short walk from The Admiral at the Lake. Locals and visitors alike enjoy this quiet Lincoln Park beach with shady benches, grassy areas, a beach house, bike rentals, running and bike lanes, volleyball, lounge chair and umbrella rentals, swimming, showers, restrooms, and several concession stands.
It's Time to Enjoy the Beauty of Nature
Summer is a great time to explore the beauty of nature. Each of these beach destinations is hand-picked by our residents for its individual charm and beauty. One of the qualities our residents like best about The Admiral at the Lake is the outstanding landscape and scenery. Unlike any other continuing care retirement community, The Admiral at the Lake puts great emphasis on providing an outstanding community for residents to continue their active, vibrant lifestyles. If you would like to know more about this senior living community, please call (773) 433-1801 or contact us online.