January 17, 2023 —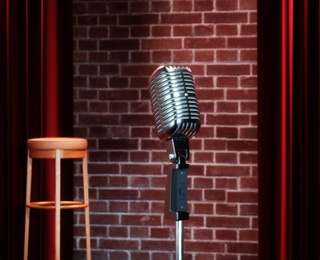 Everyone loves a good laugh, and residents at The Admiral at the Lake are no exception. With many thriving entertainment venues in Chicago, these are just a small selection of comedy clubs that feature live shows every week. Have fun!
7 Places to Get a Good Laugh
Located in Old Town Chicago, The Second City has launched hundreds of headliners. Since it began in 1959, it has provided an optimal environment for presenting The Second City Troupe's unique style of sketch and improv.

The modestly-sized performance and audience space provides benefits of a theater and comedy lounge.

The Second City

1616 N. Wells Street

(312) 337-3992

Since moving from Wrigleyville to Lincoln Park, iO Chicago has expanded from two to four theaters of long form, on-the-spot improv.

Come witness players weaving entertaining stories from thin air. Enjoy food, drinks, and lots of laughs in the spacious and lively bar-like atmosphere.

iO

1501 N. Kingsbury Street
(312) 929-2401

Andersonville residents enjoy having a drink while taking in some improv skits, comedy sketches, stand-up, and original musical comedy performances presented by seasoned pHarm House comedians and their students at the pH Comedy Theater.

Looking for dinner and a show? The pH Comedy Theater has paired up with nearby Elixir Andersonville to offer a specially-priced deal. Come on down and enjoy a good laugh!

The pH Comedy Theater

1515 W. Berwyn Ave

(773) 961-8214

Ready for rapid-fire improv? Laugh Out Loud comedians use audience suggestions to create fast and funny

rap battles, sports commentary, gibberish guessing games, and day-in-the-life reenactments

.

If you're looking for a spot to take younger folks, the early show is well known for its family-friendly fun. With a convenient location at Woodfield Mall, Laugh Out Loud is a great place to meet up with friends and laugh 'till you cry.

Laugh Out Loud Theater Chicago

3851 N Lincoln Ave

(773) 857-6000

Known as the longest-running short-form improv comedy show in Chicago, the CSZ Theatre presents comedy-as-a-sport, where two improv teams competing for applause and are judged by a referee. This specially-designed venue in Lakeview is perfect for an interactive show. It also features a full-service bar with local craft beers, cocktails and snacks. Come to the CSZ for good fun for all ages!



CSZ Theater Chicago

929 W. Belmont Ave

(773) 549-8080

MCL stands for Music Comedy Live at Chicago's best BYOB comedy theater! You will be amazed by the skillful combination of improvisation, vocal, and instrumental performances. The laid-back atmosphere is perfect for the eruption of spontaneous skits and games built upon audience suggestions. If you'd like to get to know the cast, pour them drinks after the show.

MCL Chicago

3110 N. Sheffield Ave

(773) 610-5930

Where is the best place in Chicago to see up-and-coming, famous, and soon-to-be-famous comedians? That would be the Laugh Factory. Unlike the case with other venues we've presented, fans of The Laugh Factory experience a wide variety of content, approach, and skill. You never know what to expect. Many headliners have grown their fan base at The Laugh Factory.

Laugh Factory

3175 N. Broadway Street,

Chicago, IL 60657

(773) 327-3175
Get a Good Laugh near The Admiral at the Lake
Are you looking for an adventurous place to meet up with a group of friends? Several of Chicago's highly-rated Chicago comedy clubs are close by. Try each one and let us know which you like best.
The Admiral at the Lake is a continuing care community that fosters the personal independence, health and wellness of members. We avoid the term senior retirement community, because residents of The Admiral at the Lake are anything but retiring. They're Chicago's movers and shakers, working to make Chicago and the world better. Interested in joining them? Call 773.433.1801 or click.