March 24, 2022 —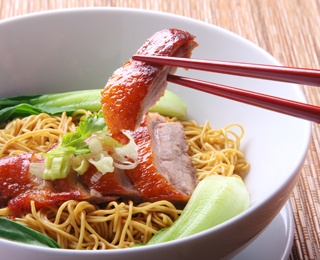 Argyle Street is the namesake for the 19th-century Chicago suburb developed by Chicago Alderman James Campbell and named for his ancestors, the Dukes of Argyll. In the 1960s, Chicago restaurateur Jimmy Wong attempted to turn the area into New Chinatown, attracting numerous Asian entrepreneurs to the area. In the 1970s, Vietnamese flooded into the area.
__________________________
Explore the attractions near The Admiral at the Lake!
__________________________
In 1981, Director Charlie Soo, director of the Asian American Small Business Association of Chicago, started Taste of Argyle, which offered fare from local eateries. Taste of Argyle spurred even more small businesses to open up.
Although the majority of local shops are Chinese or Vietnamese, you can also find Thai, Laotian, Cambodian and Korean shops on or near Argyle. Still, it retains its nicknames as New Chinatown (a moniker disputed by local residents), Little Saigon, and Little Vietnam.
Located within walking distance of The Admiral at the Lake, Little Vietnam continues to grow, attracting more entrepreneurs every year. It's hard to resist the smells, tastes, uniqueness and diversity of Asia on Argyle.
Although there are numerous restaurants and other stores near The Admiral at the Lake, residents are willing to make the trek to Asia on Argyle to enjoy the murals, discover one-of-a-kind gifts and clothing, find traditional southeast Asian spices, and enjoy the variety of food choices.
Uptown United Executive Director Martin Sorge says the choice of making the area Chicago's first shared street was a good one. Before the new design, the area had narrow sidewalks and lots of traffic. Now, pedestrians have right of way. "It's a much easier place for folks with mobility issues to get around," he noted.
Expand Your Palate at Asia on Argyle
With offices close to Asia on Argyle, Sorge enjoys the many food choices in the area. Here are some of his recommendations:
Try the dim sum. Carts roll by with delicacies, from which eager diners choose. Select the pan-fried chives & shrimp, pan-fried pork bun, egg puffs, egg custard tarts, ribs, and fried taro root puffs.
For an adventure, order the Beijing Duck Feast in advance. Servers bring a whole roasted duck to your table, where it is then carved and served with the steamed bao, pickled daikon radish, and hoisin sauce. What's left is returned to the kitchen and made into duck broth-with-wintermelon soup and duck-fried rice.
"Choose the Beijing Duck Feast, and you know you'll have a really good meal. It's pretty approachable for people not familiar with the cuisine," says Sorge.
Sorge recommends the classic Vietnamese soups and noodle salads. You can cook the food at your own table. Try marinated ground beef wrapped in a Hawaiian leaf and grilled (Bo La Lot) and the Lotus Root Salad for an adventurous experience.
Everyone raves about the pho, a type of Vietnamese soup, but Sorge also loves the banh mi and bun salads. He says banh mi is a great way to introduce Vietnamese flavors to American palates, because it's served on a baguette as a sandwich. For example, the Vietnamese Banh Mi includes barbecue pork, pork cake, pâté, cucumbers, cilantro, jalapeno, sour carrots, radishes, and soy sauce.
"The flavors are a little bit different from what most Americans have on a sandwich. It's a great way to ease into the cuisine," he notes.
If you have adventurous tastes, Sorge says to try the Thai street food at Imm Rice & Beyond, which he describes as "very authentic".
For real street flavor, order Som Tum, a papaya salad that combines spicy, sweet, salty, and tangy flavors and Kuay Tiew, noodles and meat in a soup. Or select from a buffet of cooked food in a steam table that you can serve over rice called Khao Rad Gang.
Famous for their baked barbecue pork buns, the coconut buns are a personal favorite of Sorge.
For traditional French baked goods with a Vietnamese twist, LaPatisserie P can't be beat. They make the mundane croissant an ecstatic experience. Sorge adds that the traditional Vietnamese pastries, such as coconut rolls, melon cake, sesame balls, and dan (egg custard) tarts, are delicious.
Experience the Night Market at Asia on Argyle
Beginning in July and ending in August of each year, the eateries of Asia on Argyle—and a few more—strut their stuff Thursday night at the Night Market. Choose from fresh produce, as well as specialties from local eateries. There are also wares from local vendors and multicultural entertainment.
Sorge likes the fact that you can get a snack or a full meal. He says it's a great way to try a variety of foods fairly inexpensively.
The Admiral at the Lake: Get in the Spirit
Located within walking distance of Asia on Argyle, The Admiral at the Lake is a continuing care community dedicated to supporting the personal independence, health and wellness of members. We avoid the term senior retirement community, because residents of The Admiral at the Lake are anything but retiring. They're Chicago's movers and shakers, working to make Chicago and the world better.
The Admiral at the Lake's mission is to foster an ageless spirit among community members. If you want to get in the spirit, call 773.433.1801 or click.